Guest blogging has been the secret to the success of many marketers. Take Buffer, the social media management software, for instance. Its founder, Leo Widrich, grew the company to 100,000 users by publishing a whopping 150 guest posts in 9 months.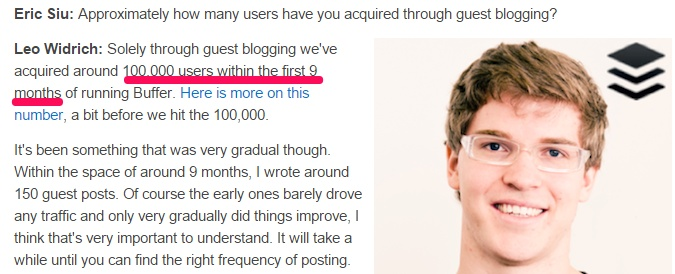 Danny Iny, the founder of Mirasee, has a similar story. When he started out in 2016, he was not a star marketer or entrepreneur. In fact, his blog was averaging barely 30 visits per day.

Things took a turn for the better when he took up guest blogging. After landing his first guest post on Copyblogger, Danny wrote over 80 guest posts in 2 months.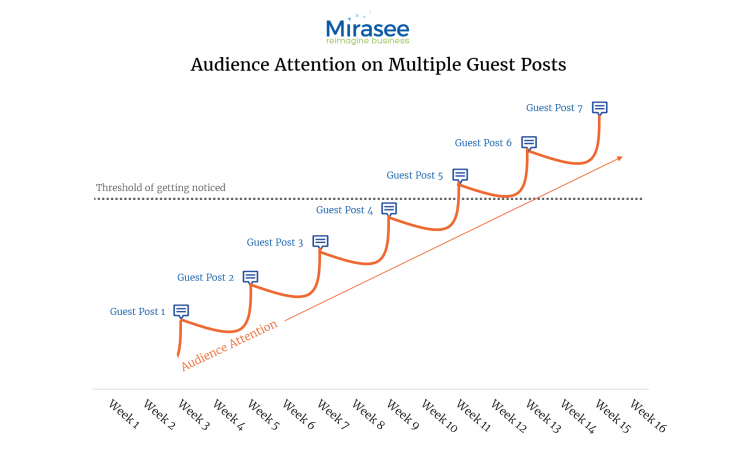 From the two case studies, you can clearly see that guest blogging is critical to a business's success. But if you guest blog only once in a while, you won't have such enviable results. Run a comprehensive guest blogging campaign to achieve excellent results.

What You Need to Know About a Guest Blogging Campaign

A guest blogging campaign should be part of every company's marketing strategy. Such campaigns involve setting goals, finding sites, pitching, writing, and marketing posts. However, the first step to a successful guest blogging campaign is to have a clear-cut plan.
Goals for Your Campaign
Before you embark on a guest blogging campaign, be clear on your goals and objectives. What do you want to achieve by the time you are done with the campaign? Of course, we all know that guest blogging has several benefits to your business. But what are the specific benefits you are looking at getting?
Some of the common reasons for guest blogging include:

Driving traffic to your website (homepage, landing page, or your blog)

Establishing your authority in a niche area

Improving your SERPS by attracting inbound links

Growing your email subscriber list

Drawing attention to your social media pages

Give readers free access to your resources or get them to make a purchase

Sometimes, your goal could be more than one for a campaign. Whatever the case, those goals will determine how long your campaign will last, which sites to contact, and what your CTA should be.

Use the S.M.A.R.T goals strategy to write down your goals:

Specific - What exactly do you want to achieve?
Measurable - Can you measure your goal?
Attainable - Is your goal realistic?
Relevant - How will this goal impact your business?
Timebound - What is the deadline?
For example, if you want to drive referral traffic to your website, your goal could be: increasing referral traffic by 60% by publishing 30 guest posts.
This goal is obviously specific, measurable, attainable, relevant, and time-bound.
If you are looking at growing your email list, your goal could be: Increasing the email list by 4,000 subscribers by publishing 50 guest posts in 3 months.
Download and use this S.M.A.R.T goal-setting template from Hubspot to create goals. Once you settle on your campaign's objective, you can go ahead and look for guest sites.

Looking for Guest Post Sites

After settling on your goals for the campaign, the next step is looking for high-value guest post sites. If you are just beginning and don't have a portfolio, you can start with smaller websites and later migrate to top-tier websites. However, always aim for the top websites in your niche.
Only post on websites that are worth the investment. Such websites typically have a Domain Authority (DA) of 50+ and an engaged readership. Also, these websites are active on various social media platforms. To find these kinds of websites, do the following:

Use Google Search

Your first point of call when searching for high-value guest posts should be Google. Sites that accept guest posts have a contributor's page or a guidelines page.

When you search for specific keywords, those sites will show up on your search page. The following examples can help you land good guest posting sites.
Keyword "submit a guest post"
Keyword "guest post guidelines"
Keyword "write for us"
Keyword "guest post"
Keyword "accepting guest posts"
Keyword "become a contributor"
Keyword "become a guest writer"
Keyword "writers wanted"
Replace "keyword" with your niche and search. You'll get thousands of hits from your Google search that you can examine.
Let's say you run a company that sells email marketing software. You'd want to guest post on marketing sites. In this case, you should type marketing "guest post" in your Google search button.

This search returned over 8.8 million results. Notice that there are sites that compile the best marketing blogs. These sites make your work easier.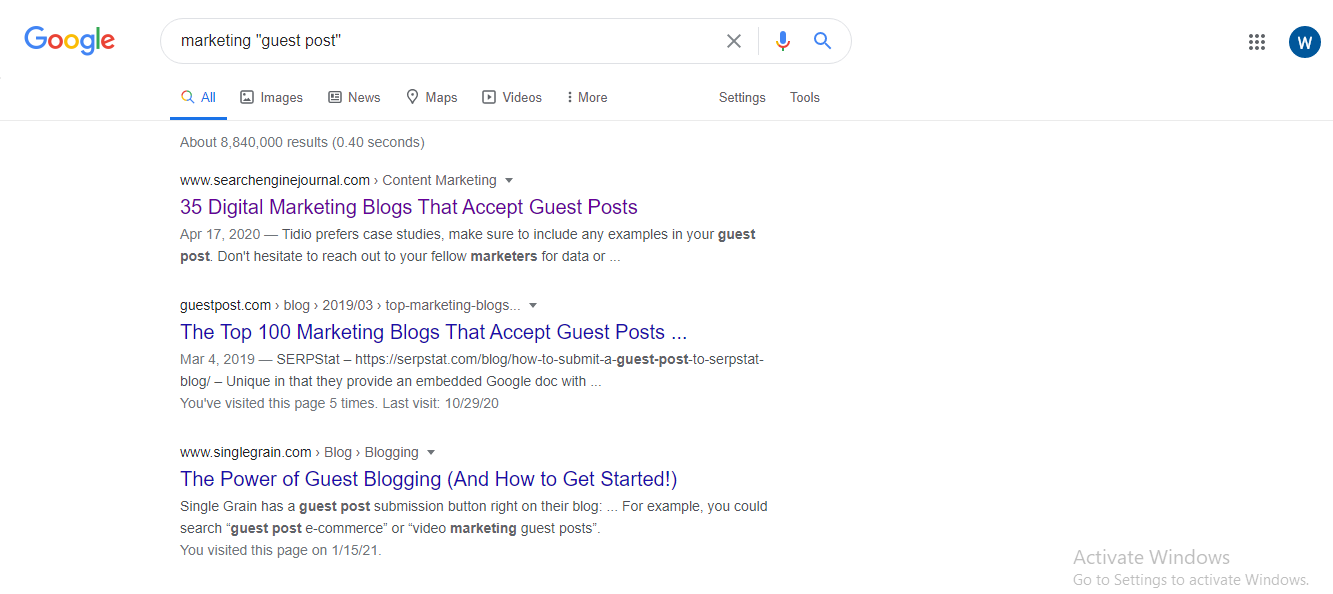 If you want to get even more specific results, search email marketing "guest post." This search returns over 5 million hits. Immediately, you'll see that Campaign Monitor and Mailgen accept guest posts on email marketing.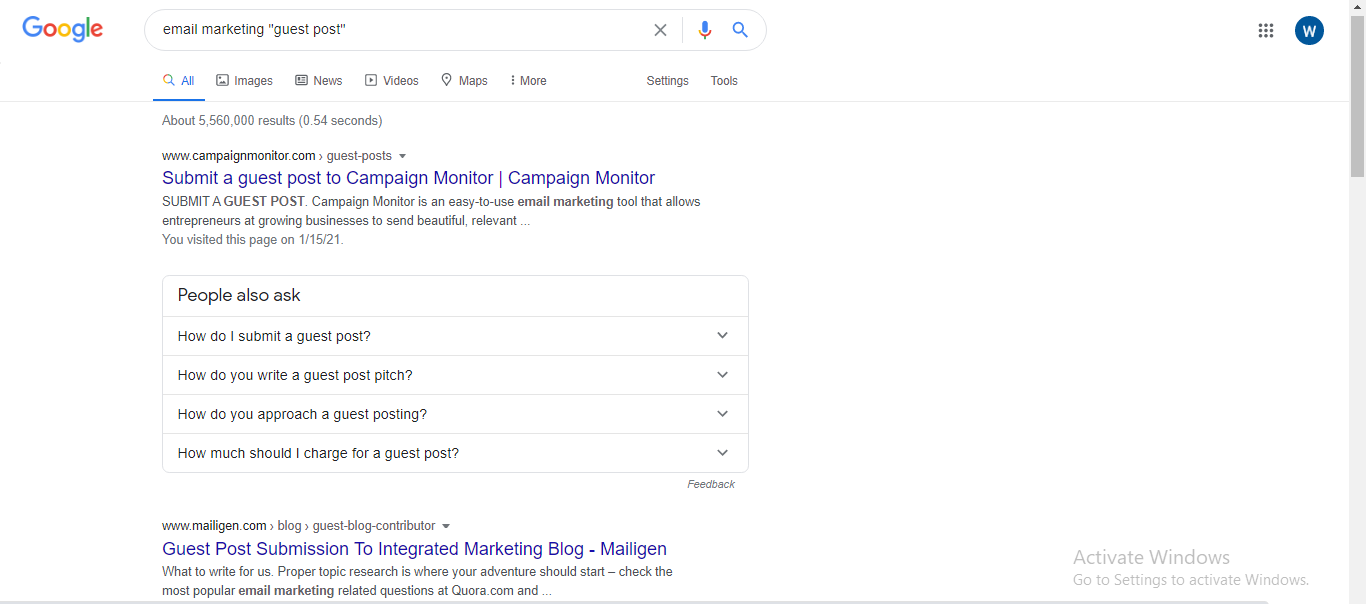 Create a spreadsheet and copy the URLs of the sites you discover during your search. Later, you can go over each site to look at their specific requirements and whether your guest post will be a good fit.

Prolific Guest Bloggers
One of the goals of every guest blogging campaign should be to connect with experts and influencers in your niche. Often, these people double as prolific bloggers.

It's a great idea to follow such prolific bloggers. Subscribe to their websites and learn from the kinds of content they churn out. Furthermore, take note of the websites they guest blog on. It will help you know which websites you should aim to send a guest blog in order to be an influencer.

For example, if you follow the king of blogging Neil Patel, you'll notice that he has written more than a 1,000 guest posts. Some of his guest posts have been featured on Search Engine Journal, Quicksprout, and Hubspot. If you want the same results as Neil Patel, aim to get featured on those blogs.

One hack that gives you a list of all guest post sites that the top blogger you are following has been featured on is to use Google's reverse image search.

Copy the URL of the profile picture or headshot they use in their author bio. Let's use Neil Patel as an example. Find a site where he has a headshot and copy the image address.

Select the option to search by image. Paste the URL you copied into the reverse image search button.

Next, click "search by image," and voila, you'll be presented with nearly all the sites Neil Patel has used that headshot in his author bio. In this case, there are over 400 results. You'll notice that Neil Patel has written for sites like Bussiness2Community, Forbes, and The Entrepreneur.

Other Alternatives

Aside from a google search, there are other smart ways to find high-value guest posting sites. For example, social media sites such as Twitter, Google+, and LinkedIn are perfect places to hunt for guest posting opportunities.

Alternatively, you can run a competitor backlink analysis. Use tools like Ahrefs and SemRush to find the sites that are back linking to your competitor's site.

A site like Alltop can help you easily find guest posting sites in your industry. All you have to do is enter your niche, and the news aggregator site will return several sites that accept guest posts.

Find the Decision-maker

After deciding on the guest post sites you want to publish on, the next step is to find the decision-maker. For guest posts, the decision-maker is usually the person who signs off on a piece of content before publication.

The good news is that many sites that accept guest posts have a contributor's guidelines page. Typically, they'll direct you to the person to contact.

For small businesses that have no clear structure, you can contact the founder or the CEO. Such people usually have a hands-on approach to running their business, and they can get your post published.

For big businesses and established sites, you'll have to find the editor or the content marketing manager. For companies that have no editors, contact the head of sales or marketing.

You may be able to find their emails on the company's about or staff page. If their email is not there, head over to LinkedIn, search for their names and email address. You can also send a request to connect.

Alternatively, you can make your work simple by using an email finder like Voila Nobert. With the decision maker's name and website domain name, you can find their official email address with ease.

Sending Your Pitch

Once you have a list of sites that you want to be featured on, the next step is to prepare your pitch. Remember, these guest post sites often receive hundreds of inquiries per day. So, your pitch would have to be excellent to stand out from the crowd.

Some prepare a generic pitch and dispatch it without realizing that each site has its unique demands. Guest post sites do not exist for writers; they exist for their readers.

So you have to convince the editor that you can offer something of value to their readers. Ideally, your guest post should be a topic they haven't covered before, or even if they have, yours should be an upgrade.

Don't beat around the bush. Instead, go straight to the point and keep your email short and sweet. You can refer to a previous guest post you read on their site to build a common ground.

Usually, high-quality sites only accept guest posts that are of a high-level or from experts in the field. Let the editor or decision-maker see what you are bringing to the table. What's your expertise and experience? Do you have any major credentials or accomplishments in the industry?

Here's an example of a pitching template you can use to craft a winning pitch.

Subject: GUEST POST FOR YOU
Hello (Name of Editor or Decision-maker),

Thanks for the great work you are doing at XYZ blog. My name is John Smith, and I am a Hubspot-certified marketer with 20 years of industry experience.

I've been reading your blog recently, and I enjoyed the post on (Name of blogpost).

I have been researching an idea for a blog post about (Blog post title). I think this will be great for your audience since (reason blog will benefit audience).

Here's a summary of the post:

I've published on other top sites, including (site 1), (site 2), and (site 3). Here are the links to the posts:

URL 1
URL 2
URL 3
What do you think? Should I go ahead and send you a draft? Kindly let me know.
I look forward to hearing from you.

Best Regards
(Your name)

This template is likely to work because it is straightforward yet connects with the editor. It also shows the editor that the person pitching is an avid reader of their site, and their contribution will add value. It also provides social proof and has a clear CTA.
Write Your Guest Post
Crafting a unique and compelling guest post is the secret to catching any editor's attention. Once your idea has been given a thumbs-up, go head and meticulously write your post.
Read through the guest posting site and examine posts similar to the one you intend to write. Also, get a feel of the kind of posts that do well on the site. Such posts usually have lots of shares and comments.
Become familiar with the guest posting website's requirements, including word count, formatting, links, etc. Make sure that your post meets all the requirements.
The surest way to be rejected by a top site is to submit an error-ridden post full of spelling mistakes, incomplete sentences, wrong punctuations, and the like. These mistakes show that you don't pay careful attention to your work.

Make sure that your guest post is high-quality and error-free. There are plenty of great grammar tools like Grammarly to help you catch spelling and grammar mistakes. This guide covers how to get a premium discount, if you want to use the paid version.

Write in a conversational style that is engaging and makes reading a breeze. Your write-up should be packed with statistics, links, actionable insights, and tips. Always think of practical ways to help your audience when you are writing.

Keep at it
Guest blogging shouldn't be a nine-day wonder. It requires skill, hard work, and perseverance. If you want to succeed in your guest blogging campaign, you need to rinse and repeat the process until you start getting results.

Your first few guest posts may be rejected, but don't be disheartened; instead, forge on and send more guest post requests. You may need to follow up several times on a pitch before getting a response from the editor. Whatever the case, keep pitching and writing until you meet the goals of your campaign. If others could do it, you can too.