As per a stat recorded in August 2017, more than 1.24 billion websites currently reside on the worldwide web. They pertain to different industries, sectors, target audience, and different genres. However, the most common factor that stays relevant to all these websites is the ever-lurking threat to their security.
To testify the existence of these threats, you must know that the number of websites which were hacked in the year 2016 was 32 percent more than the figure drawn from the year 2015. We might have a lot of technology to keep our websites safe but we must not forget that hackers and foul players are becoming smarter, too.
So, are you new to blogging or have you just started a new website and are looking for help regarding your blog/website security?
This rundown is the right place you are at. In this blog post, we will be talking about the top 10 website virus scanning tools which are available in the market to help you keep a check on your website(s) and take corrective measures in the right time frame.
How do these website virus scanners work?
Mostly free, these website scanners deploy data from antivirus engines and comprehend them for a match every time a scan is requested. They look for viruses, infected codes, URL redirects, hosting malware, backdoor scripts, and other kinds of malicious content that might be present on the website. They also review web host in operation and look for any unwanted activity taking place on the server side.
Let's begin the rundown.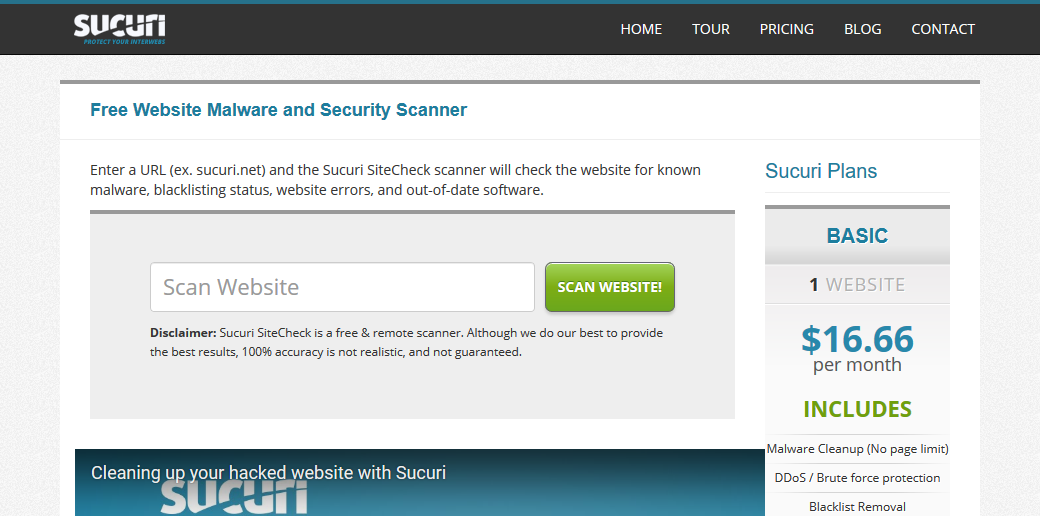 Sucuri is the market leader when it comes to analyzing, diagnosing, and getting rid of website malware. Their free website malware and security scanner work smartly to monitor and identify any kind of malware on the website. With real-time alerts, you can sit back and keep your website safe. With Sucuri, you can even schedule website integrity checks at regular interval of time. You can also seek their professional assistance to get your website cleaned.
Their basic plan for a single website will cost you $16.66/month and the professional plan has been placed at $24.99/month and it additionally offers HTTP and HTTPS support.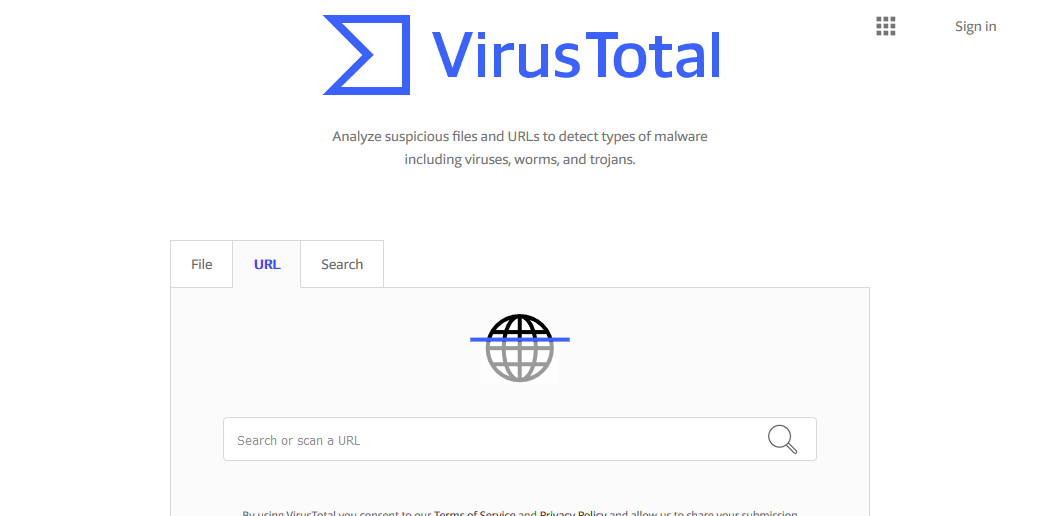 Available as a file and a URL scanner, VirusTotal is a total solution to your security woes. It uses many tools, over 70 antivirus scanners, and URL/domain blacklisting services to conduct a check on the URL you submit. To regularly check your website for any threats, you can employ VirusTotal using their browser extension and API as well, apart from the official website.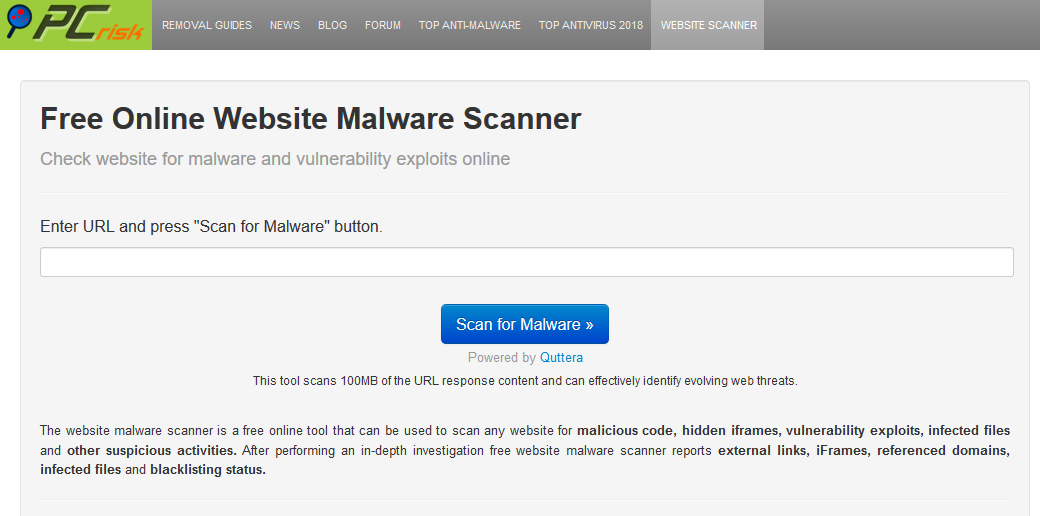 This free website scanning tool looks throughout your website for any suspicious elements such as bad code, hidden iframes, vulnerability exploits, infected files etc. Offered by Quttera, this scanner is a free utility to help you identify security threats which are evolving rapidly.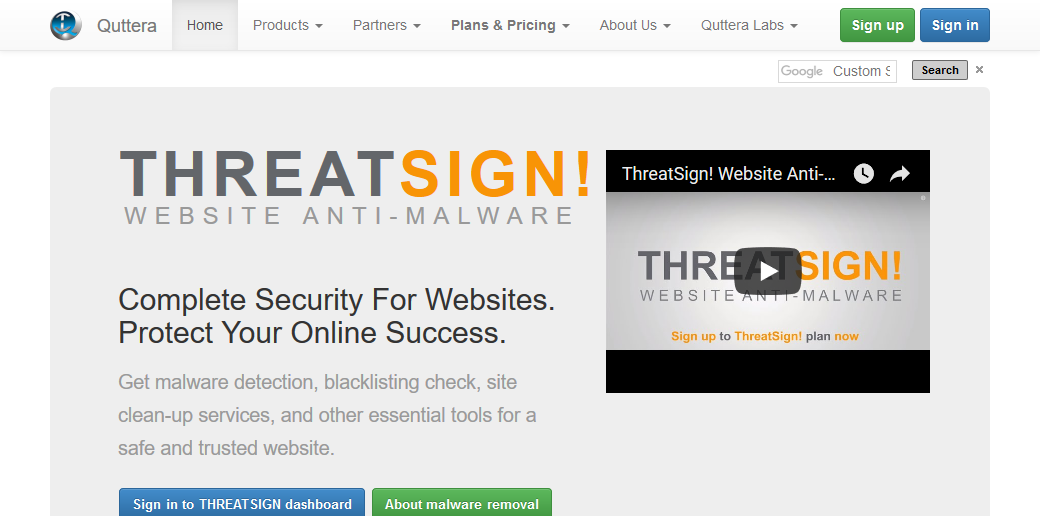 This website scanning tool understands your security concerns well and hence, it scans, detects, alerts and fixes your website for good. Their technology is smart and every check undergoes several steps so that a false alarm isn't raised. Some of their features are:
Internal monitoring & External monitoring i.e. checking the server side as well the client side of the website
Detailed reports and instant notifications
Scheduled and on-demand security scan
Ransomware detection
DNS/ IP changes alerts to track DNS attacks
24*7 technical support
Hacking recovery, and
much more!
To employ their services in the form of a 'Malware Monitoring & Cleanup for Websites' plan, you can choose either of their three, 'Economy-Professional-Expert plans' which are as follows:
Economy: $119/Year for a single domain
Professional: $399/Year for 2-5 domains
Expert: $599/Year for 6-10 domains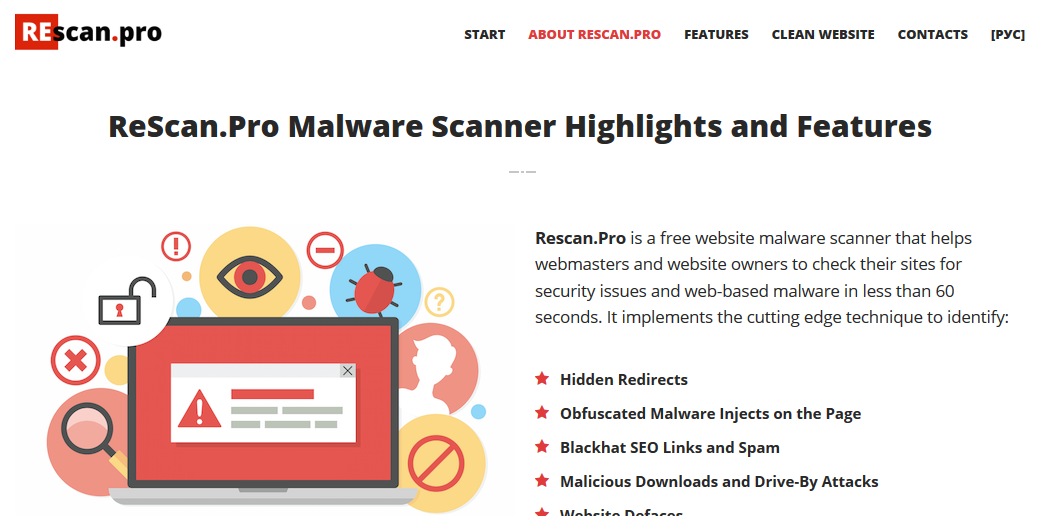 The Rescan.pro website scanner looks for viruses, spyware, and redirects which might have crept into the website. This free tool scans your website in real-time and produces quick reports in as much as 60 seconds. Some of its features are:
Monitoring malware injects
Hidden redirects, if any
Blacklist status check
Adware, widgets check
Spam scanning
Blackhat SEO check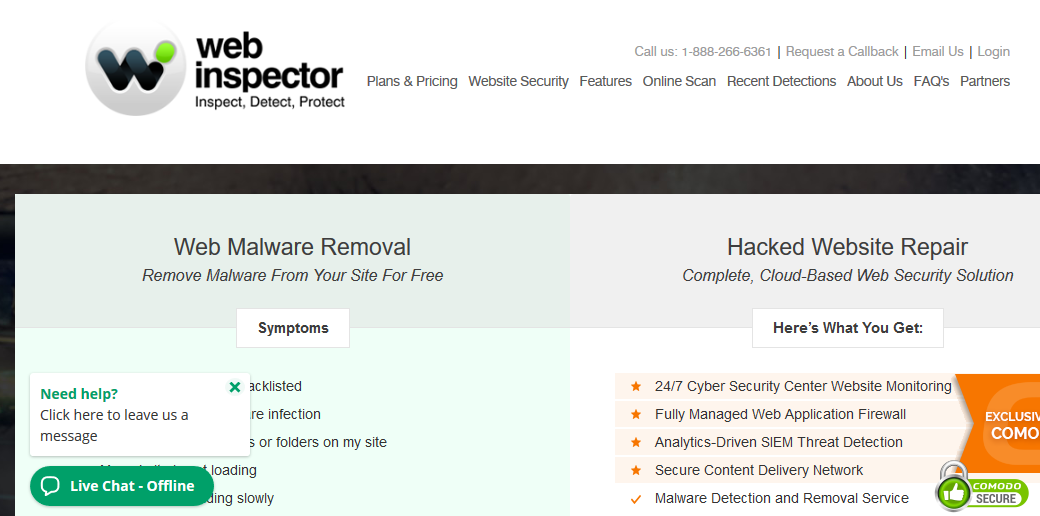 This one is a famous website malware scanning tool and is trusted by many website owners. With a free and a paid plan in place, the Web Inspector tool gets its experts to scan your website, fix it under 15 minutes, and produce a detailed report.
The free 'Web Malware removal' plan fixes your website for selective issues whereas the paid 'Hacked Website Repair' program (Cloud-based) will charge you between $9.90/per month to $149.90/month, depending on your requirement. Some salient features of the paid plans are:
Secure CDN
Analytics-Driven SIEM Threat Detection
24*7 monitoringProtection from DDos, SQL Injection, and Cross Site Scripting, etc.
You can check out the detailed plans, here.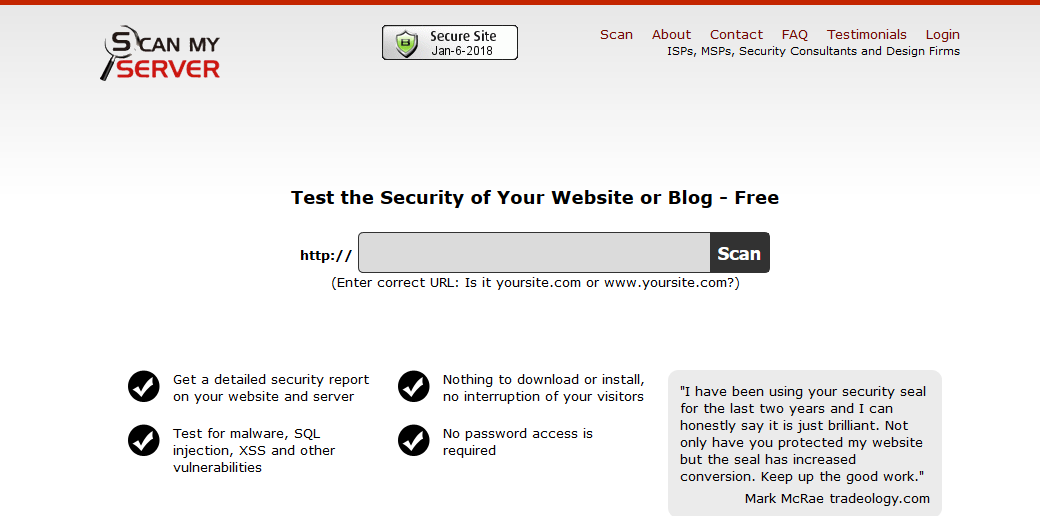 A plain and simple scanning tool, 'Scan my Server' has been entrusted by users for years now. After testing your website for malware, SQL injection, XSS and other vulnerabilities, the tool gives detailed security report for your website as well as its server. Backed by Beyond Security's vulnerability assessment solution AVDS, the service is free for a single site and is chargeable if you wish to scan more than one website. They also provide PCI certification testing for a little fee.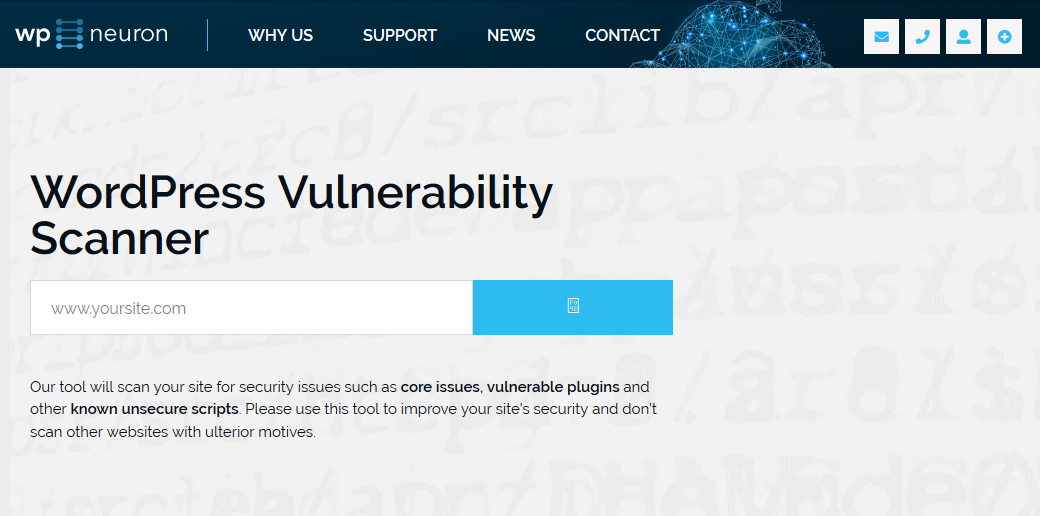 This tool scans the core files of your WordPress website, its plugins, and scripts to find out any issues that might affect the integrity of your online property. They scan all the codes present on the site, update the core and eventually force the website owner/admin to use strong Passwords.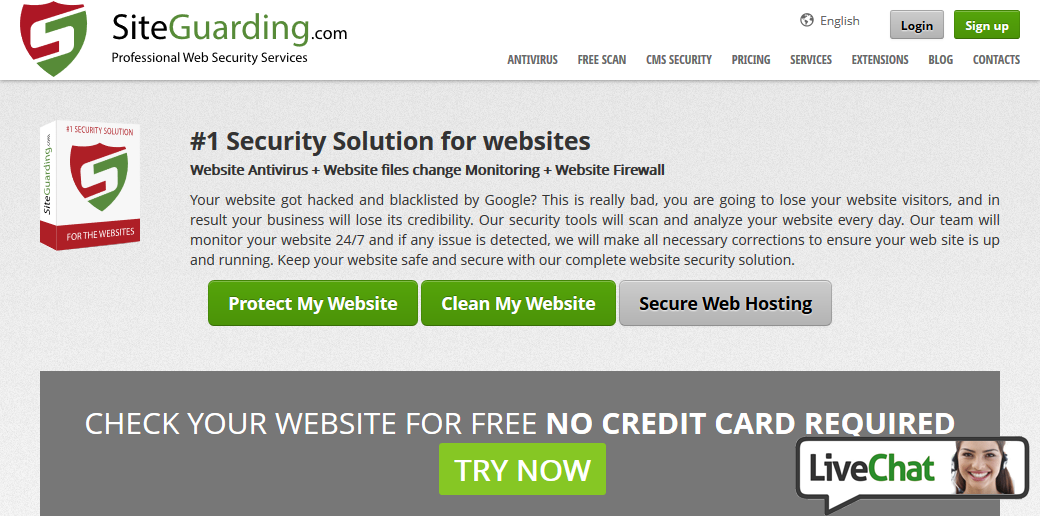 This tool offers website scanning and monitoring, website antivirus, malware removal, and security extensions to keep you covered. They monitor your websites for changes 24*7 and take the right action if the issue is glaring. With a 14-day trial in place, you can either try their full-fledged service or select an appropriate security package for your website. So, if you are looking for a one-stop deal for all your website security requirements, Siteguarding is the best option for you.
Bonus mentions
Summing up:
We are nowhere close to fixating upon a technology that could take away all the existing website security issues, once and for all. However, with the right tools at hand and a smart website security investment, we can ensure that our online websites are safe against notorious hacker attempts. All we need to do is identify our precise requirements and invest in a smart security decision that could cover our website security concerns with actionable outcomes.
Author: Catherrine Garcia is a passionate blogger and a freelance Web Developer. She along with her group of freelance developers, are experts of creating Websites on CMS.