The COVID-19 pandemic has resulted in the cancellation of thousands of events, costing businesses over $1 billion since March. With many cities and countries still in lockdown, in-person events look to be severely curtailed until at least early 2021.
While all of these cancellations pose challenges for businesses, the mass digitization of our everyday lives presents an opportunity. Online events, such as webinars, virtual conferences, and online classes, are hugely effective in promoting businesses and driving sales. In this article, you'll learn how to generate leads using online events.
Why you should use online events like webinars to promote your brand
There are several benefits to hosting online events such as webinars (a portmanteau of "web" and "seminar"). They are relatively low cost and simple to organize, especially compared to a physical event, and people can attend from anywhere in the world. Additionally, 73% of B2B companies say a webinar is one of the best ways to generate leads.
While these facts are encouraging, there are also challenges inherent in an online event. Up to 50% of your registrants won't turn up on the day, and when people do log in, you need to hold their attention. If you're considering an online event, you'll need to plan carefully to get the most out of it.
How to plan your online event
The first and most critical hurdle is to plan an event that people want to attend. Even though many of us are working from home, people are still busy with lots of conflicting demands on their attention. You need to choose an engaging topic, an appropriate format, and the best day and time for your online event.
Choose your topic
What is your online event going to be about? It should be a topic on which you are an expert. Ask yourself the following question to choose the subject matter or theme:
What pain points do your customers have that you could solve?
What benefit would you like people to derive from attending?
What next steps do you want attendees to take afterward?
It could be the same type of content that you
write about
. Once you've decided what your topic will be, you can choose the best format for your event.
Choose your format
The format will depend on your subject and desired outcomes. Most online events I've attended fall into one of these categories (or a combination of them):
Presentation: A presenter delivers a web lecture to attendees.
Panel discussion: Two or more presenters discuss a specific topic and take questions from the audience.
Breakout rooms: Attendees split up into groups for a discussion or activity and then come back together.
I've found that audience participation is more engaging than a simple presentation. Therefore, consider incorporating a breakout session or Q&A as at least part of your event.
You'll also need to choose appropriate video conferencing software for hosting your event.
Choose your day and time
Online events have different considerations when it comes to timing. While you will have a greater geographic reach, you need to consider time zones. You should also ensure that attending is at a convenient time for your core audience. Research has shown that Wednesdays and Thursdays are the best days to host an online event: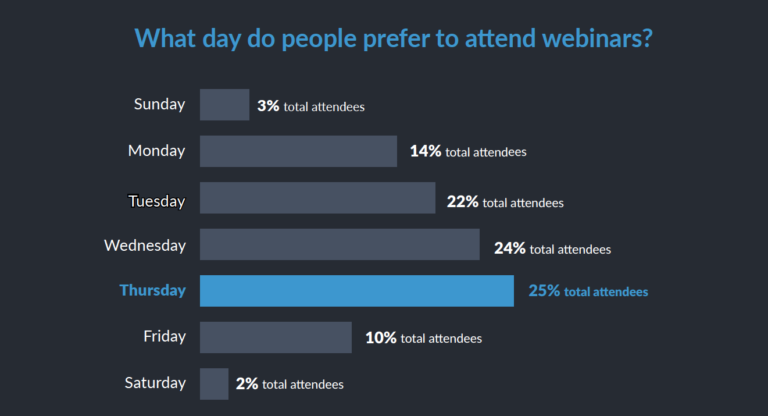 The research also showed that 11 am was the best time to host a webinar, with 2 pm coming in second. Avoid the beginning and end of the working day, and avoid weekends. Such intense planning would be much more convenient with a scheduling app to create the whole overview and follow every activity on time.
Hype up your online event with an email sequence
Once you've chosen your topic, format, and timing, it's time to promote your event. 79% of GotoWebinar registrations come from email, but social networks such as LinkedIn and Facebook are also useful promotional channels.
In this section, we'll look at creating an email marketing sequence that sells your event.
Build an opt-in page
An opt-in page, also known as a registration page, is where people sign up for your event. You can build one using a landing page builder. Your registration page should have the following elements:
Signup form for registration.
A brief overview of the event.
Learning objectives.
Brief bios of the speakers
Testimonials (optional)
Here's an example opt-in page for an evergreen webinar by Sam Ovens, founder of consulting.com.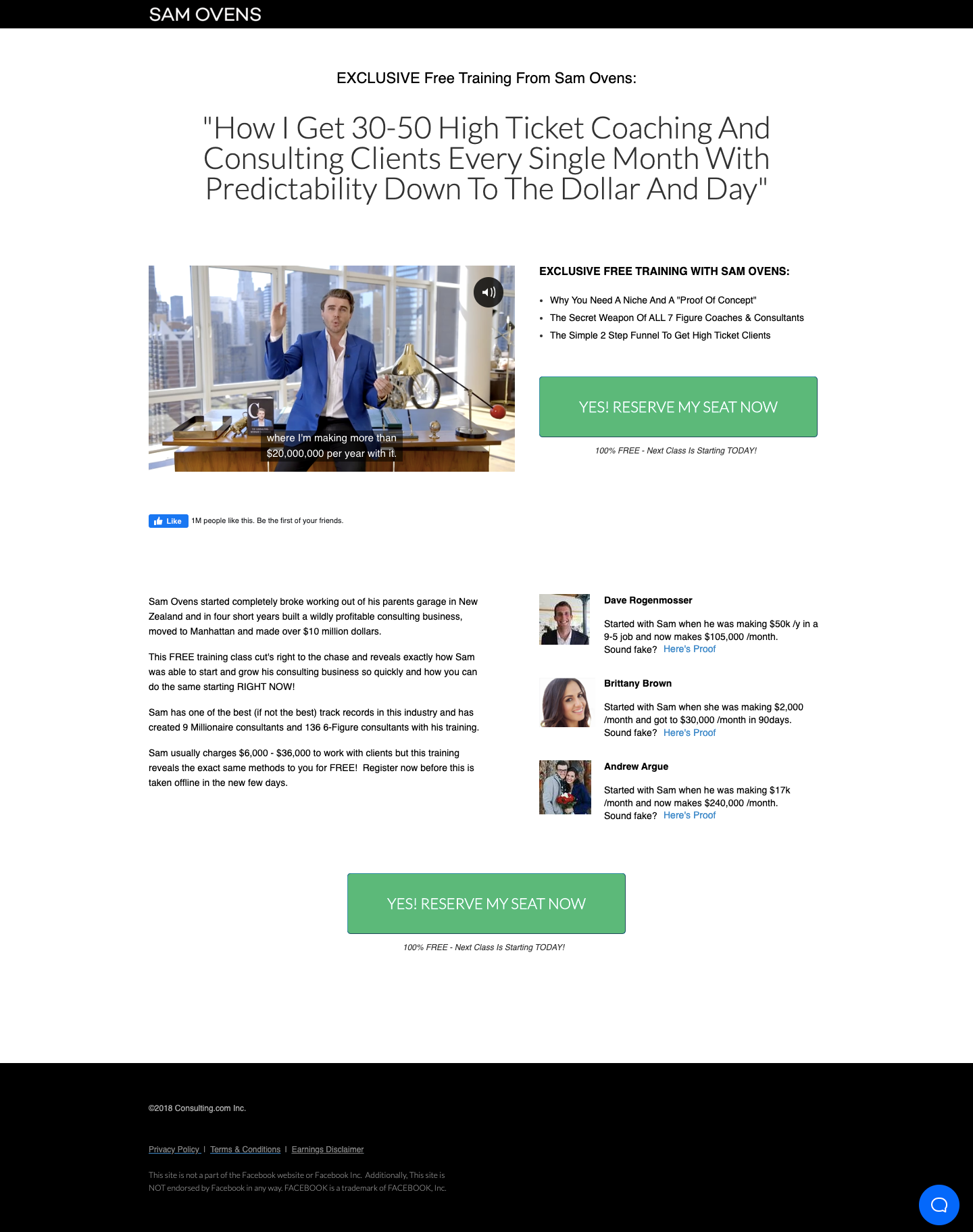 You can see how each of those things has been included on the page. To learn more about the principles of good design,
read this article
.
Bonuses improve opt-in page conversion rates. Therefore, consider offering a freebie as an incentive for people to sign up. Your bonuses should be relevant to your industry and the subject of the event. Useful bonuses can include e-books, access to bonus content, or a free consultation.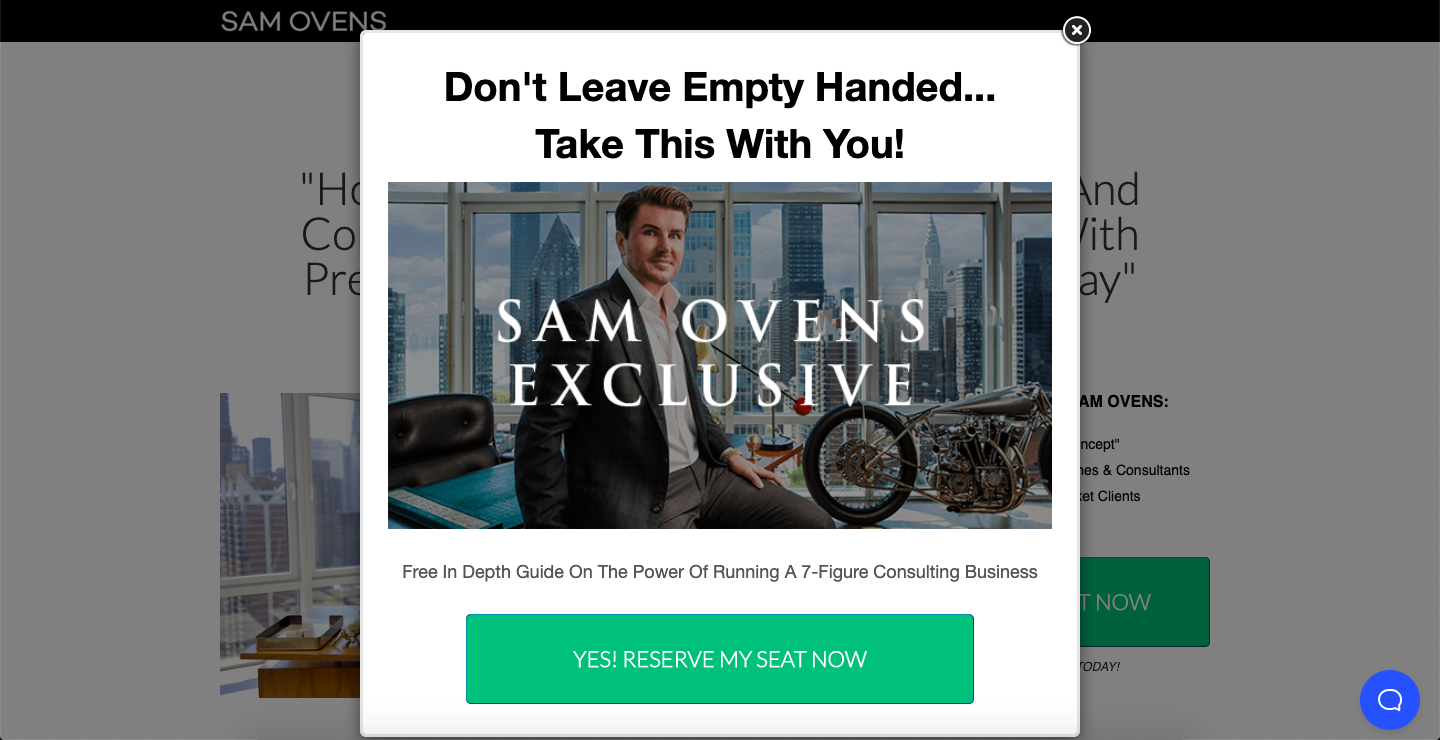 You can see how a bonus is offered through an exit-intent optin form on this page. It's a nice way to capture potential leads that are leaving the page.
Create an email sequence
One challenge with online events is that people sign up for your event and then forget about it. You can tackle this problem by using an email sequence to remind your registrants to attend.

Here's an example of a typical sequence:
A welcome email to say thank you for signing up.
A reminder one week before the event.
Another reminder the day before the event.
A final reminder an hour before the event begins.
A study found that sending four email reminders increases the number of attendees by more than 200%. Reminders build excitement as well as making sure people don't forget they signed up. I recommend using an email tracking tool to monitor your open and response rates.
Host your event
You might be nervous before you host your first online event. That's normal! But if you've done your homework and prepared as thoroughly as possible, you'll be fine. Remember to dress smartly, face the camera directly, smile, and speak confidently.
Start by introducing yourself and your business, and briefly tell your story. Deliver the content you promised, leaving time for audience questions or a break-out session. It's a good idea to offer an extra incentive for people to stay until the end, such as a door prize. Finally, end the event with a strong call-to-action (CTA) such as a link to a squeeze page, an invitation to sign up for your mailing list, or a request to follow you on social media.
The key to a successful virtual event lies in engaging with the audience. Aim to inform, inspire, and entertain. Most importantly, deliver the valuable content you promised. And always make time for audience participation when possible.
Follow-up is everything
Your work as a virtual event organizer doesn't end when the event does. Following up with leads is an essential part of any marketing strategy. Immediately after the event is your window of opportunity to engage new leads, sell your product or service, and build a relationship.
Send a "thank you" email to all attendees within 24 hours. Not only is this good manners, but it is also an opportunity to gauge their interest in your business. Offering a special discount at this stage can sweeten the deal and drive conversions.
You should also email those who registered but did not attend. Send a link to a recording of the presentation or a slide deck so that they don't miss out.
You can also use the follow-up phase to generate feedback, which will help you evaluate how well your event was received and what you could improve for next time.
Generating new leads with online events
The COVID-19 crisis has forced mass event cancellations, but businesses can take advantage of the opportunity presented by online events, webinars, virtual conferences, and online classes allow you to reach more prospective customers, promote your business, and generate warm leads.
Remember my most important tips for a successful online event:
Consider your audience at every stage. How can you help them and provide them with valuable experience?
Create an intuitive registration page.
Promote your event using email marketing and social media.
Use an email sequence to increase attendance.
Allow time for audience participation.
End with a CTA.
Online events can be hugely effective - so much so that many businesses say they will continue with them even after the pandemic is over. So don't despair if your events have been canceled and your marketing activities curtailed. Make the shift online, and you'll reap the rewards.