Today, it is common knowledge that the title of the most popular, most used platform intended exclusively for creating websites in the digital world belongs to WordPress. Data show that as many as a quarter of all registered websites on the Internet run with WordPress.

Within it, you can find more than twenty thousand different plugins installed and activated on all websites, customized for various needs, and solve many problems. What is tempting for users is that they can use most of these plugins in the free version, and if you need additional options to improve your site, it will cost you extra money. Just as everything in the world has its advantages and disadvantages, do these plugins.

You must always be careful when choosing a good plugin because if you make a mistake, you can create big problems, even to the point of destroying your site. All you have to do is press a few wrong buttons, and you can easily cause plugin conflicts, theme problems, database failures, which leads to errors, bugs, a white screen of death, and other unpleasant situations that can leave permanent damage.

You may have already grabbed your head and don't know how to avoid these situations, but don't worry - there is a solution for everything. With the help of the right plugin, you can restore everything to the original settings. However, we ask ourselves what we can do when a page crashes due to a malfunctioning plugin?

Before we move on to the concrete use and utilization of a good plugin, we will also consider some steps that may be helpful at the outset. When you are under stress, many decisions are made under that burden and sometimes without further thought.

Sometimes it is enough to take a few steps back during your process and consider whether you may have entered something in some way that could lead to a page crash. In statistics, most of the reasons websites crash are plugins. The process of eliminating or removing them can also be one of the initial steps in solving the problem. Data storage is realized in database tables, where all data have their place. If one table in that database is not working correctly, that is reason enough for problems to occur and for the page to crash. In some cases, when none of the previous steps fail, there is nothing left but to reinstall WordPress in hopes of resolving the issue.

WP Reset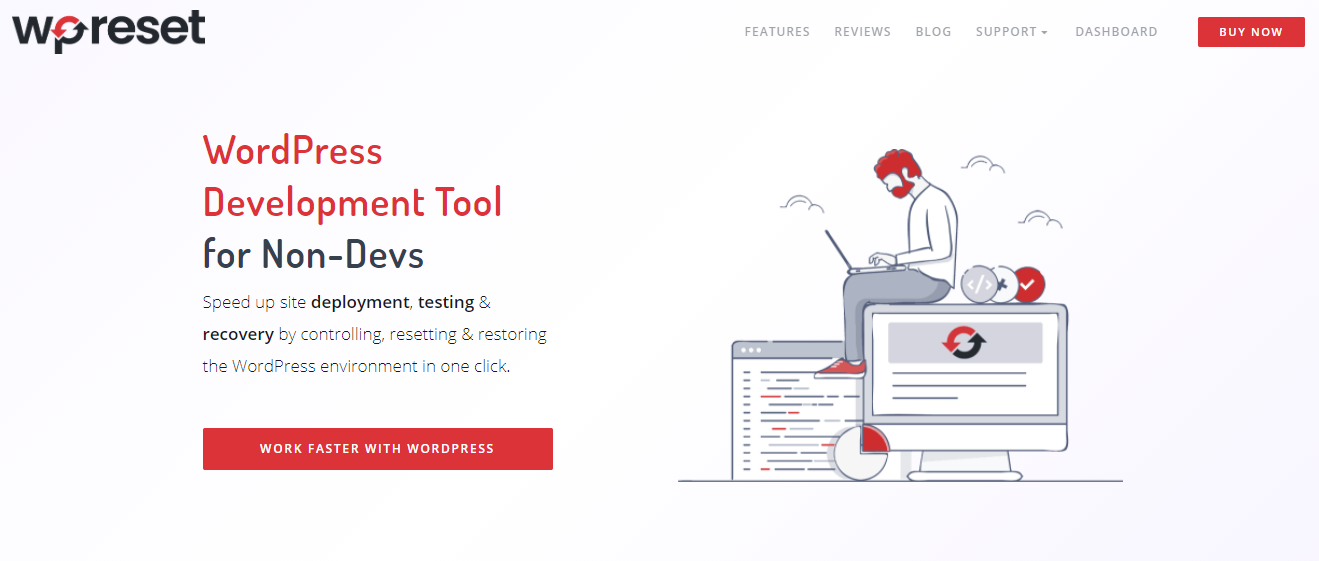 In addition to several ways to troubleshoot a website crash due to an incorrect plugin, such as taking a step back to find where you made a mistake or deleting the plugin that is causing the problem, you can also use an emergency recovery script. The WordPress Reset plugin offers many helpful features.

One of them is creating an emergency recovery script. There are certain situations in which many WordPress users find themselves over time, whether you cannot log in to your site or activate a lousy plugin that can have a catastrophic impact on the area - then the emergency script takes effect. You have tried all the methods, none of them give results, and you do not know what to do next. With the help of this powerful tool, we can solve these problems.

The script has the power to "recover" the page from any pain, whether it leaks files, white screen death, or any other type of problem. Using the script is very simple and consists of several steps. After the first procedure of installing the WP Reset plugin (in the PRO version), the next step is to download the script from the dashboard. After that, you need to use the FTP program, find the folder of your page, enter the domain, enter the password that came with the script, and then the "recovery" process begins. With this option, you can disable or enable any plugins or all to check the files to check their correctness, all the way to editing the WP address and page.

We will not neglect other features that may help resolve these issues. As the name suggests, this plugin has several page reset options. Site reset is an option that is ideal for cleaning the entire page without having to touch the files. You can reactivate plugins and themes without damaging or modifying media files. Restarting will delete comments, media, users, plugin and theme settings, posts, and more. In addition to this type of restart, there is a so-called nuclear reset. Its specificity reflects the possibility of total erasure of all elements to the very core, so even when redirecting WordPress isn't an option, this feature will give you a completely new, fresh start. This type is the most aggressive and used in extreme situations.

Clients are significant in this whole story. When working with them, if you do not want to show them all the details about this plugin, it is enough to enable the Whitelabel Option, with which you will hide the license, and access to clients will not be allowed.
Adding plugins and themes and installing them can be time-consuming. WP Reset also offers the option of creating a list of all the plugins you need and storing them in collections. These collections are available and have all these elements in one place. The collection can be automatically installed and activated with all plugins and themes in just a few steps. Manipulation of all plugins within the group is allowed, from editing, installing, creating new ones, uploading to cloud servers to deleting them.

No matter how amazed are WordPress users, with its various options, no technology has been created so far without flaws and errors that have not yet been figured out. No matter how confident you are in the particular plugin you choose, many of the reasons the plugin doesn't work aren't clear. It may be poorly coded or may code it well, but your site does not have good coherence with WordPress, or an error may have occurred during the update. You must conduct detailed investigations and tests before deciding to install and activate a particular plugin to avoid problems. Also, another recommendation would be to create a custom WordPress plugin specifically to use on your website.

With all of these options, if you don't have the right tools at your disposal, such as WP Reset, you won't be successful in overcoming these obstacles. If you face any of the problems mentioned above, it is up to you how you will deal with them to find the best and most efficient solution that will eliminate the situation no matter how demanding it may be.