Ecommerce web design is unique in several ways, and there are some essential elements of it that are unfortunately but often overlooked either by choice or chance. Incorporating them into your ecommerce web design can enhance UX and conversion, two key factors for ecommerce success.
To do this effectively you need to understand the typical online shopper's journey.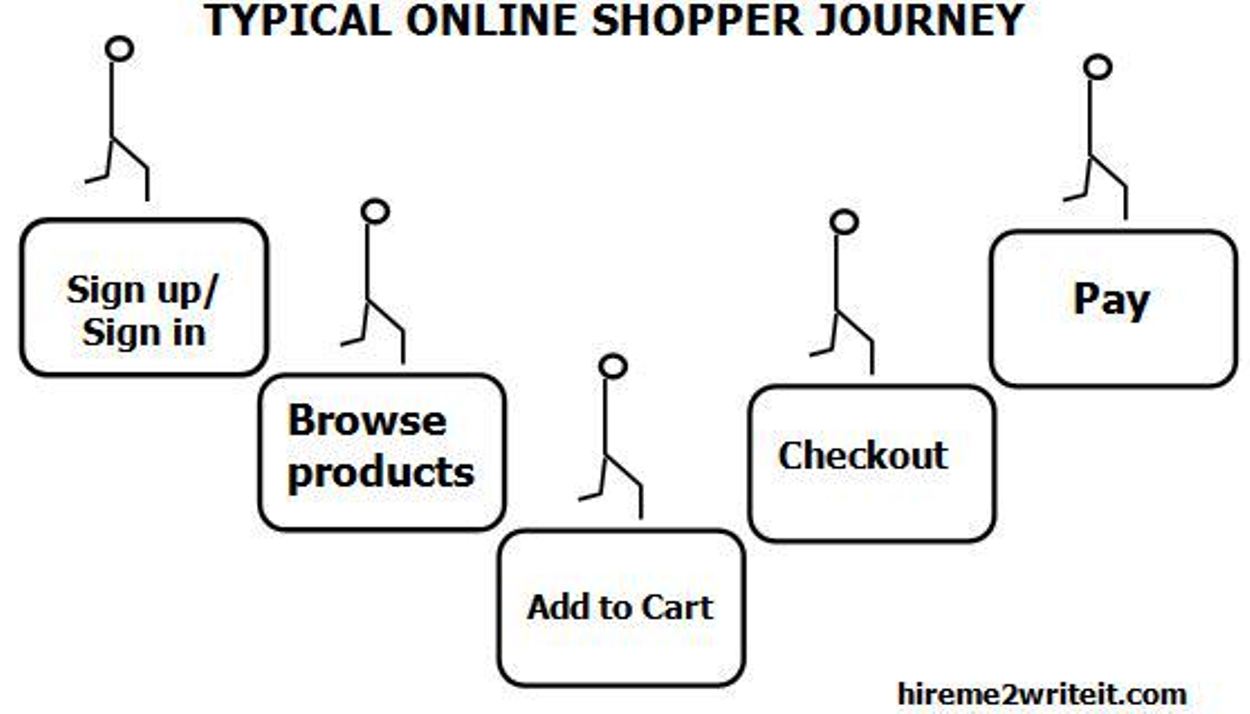 For instance, did you know that over 95% of online shoppers consult videos (somewhere along their journey) before making a purchase decision or that by 2019 80% of online content will be video? Or that there are several cool video editors or free video editing software that can be used to create stunning videos?
In this post we highlight 6 key areas of ecommerce web design that can enhance usability, interaction and general user experience but before that here are
2 Arguments for Better Ecom Web Design
Reports indicate that there over 1.5 billion websites out there with at least 200 million of them (and counting) active, 2-3 million of which are ecommerce websites, a.k.a competitors.
Global ecommerce market has been on the rise over the years and is expected to generate over $4.48tr in revenue by 2021 according to reports by Statista.
In summary, the competition is stiff and growing, hence differentiation is key. The following tips will help you improve your ecommerce web design game in 2019 and henceforth.
1. Use Videos
Video is currently so hot. Reports suggest that in the last 30 days more video content have been uploaded to the web than the past 30 years of TV content.
You can use a hero image or videos for your online store's homepage background, as explainer video, site tour or product unboxing/review. There's a lot you can do for your online store with videos and there are lots of cool free video editing software to choose from.
Some sites like Wistia use video background as homepage.
2. Filters
Appropriate filters can be of great help to online shoppers. Often when products are searched for and results come in they can run into thousands or hundreds of thousands.
Sorting through that sort of pile is literally impossible. It will cost shoppers time and internet data to do that which is a total turn off for (m)any customers.
Popular filters categories include:
Lowest to highest price
Highest to lowest price
Size
Color
Brand
Shipping from, to
And many more
The right filters make purchase decision much easier.
3. Forms
Too many forms spoil the fun of shopping online. Shoppers in buy mode are often in a hurry to pick and pay, especially during flash sales or discounts.
But there could be a challenge, digital speed bumps known as forms or form fields. Having to fill too many form fields is always a pain for shoppers.
In most cases these forms are inevitable for KYC, order placement, billing and shipping information, payment processing, etc. When designing forms for ecom websites, the fewer the better as there are other sites providing guest checkout and one-click checkout.
4. Trust Seals
Trust they say must be earned. This is a truth that must be learned, especially when operating an online business. Many have been scammed and duped online. Cybercriminals have targeted and stolen millions from millions of credit cards.
A successful ecommerce website must be perceived and seen to be as safe as reasonably possible to encourage shoppers to supply credit card information when paying for online purchases.
Adding recognized trust seals from credible sources during website design will add extra points to your credibility and make it easier for shoppers to part with personal information like credit card details.
5. Testimonials
When designing an ecommerce website there are subtle ways to win shoppers trust. As mentioned above, trust seals can help you seal the deal. In addition, implementing https protocols shows shoppers they can safely pay on your site.
Another powerful trust earner is displaying customer testimonials on-site with real names and possibly photos. These first hand testimonies tell newcomers that they will have a great experience shopping with you.
This can also serve to put online store owners on their toes to deliver the top notch shopping experience promised on their site and attested to by customers in the past, which in turn can lead to even more positive testimonials.
6. Reviews
Whereas customer testimonials give a general overview of what it feels like to shop with an online store, product reviews provide product specific insight from customers who have bought or used such products in the past.
This section of an ecommerce website can determine whether it's a bye or a buy. It is as strong as word of mouth recommendations. Reports indicate that over 95% of shoppers consult product reviews before deciding to buy or fly.
As a general rule of thumb I personally do not buy online until I have read several unbiased reviews in order to avoid buyers remorse or the often lengthy process of returns and refunds. The same holds true for many other shoppers.
Conclusion
Ecommerce website design must be highly user focused to ensure success especially for online only retailers who depend entirely on generating sales online.
Incorporating these tips into your existing web design practices or culture, will help to improve your results with ecommerce website design and ensure that your clients are also happy with the results they see.
Author Bio: Amos Onwukwe is an AWAI trained Business and Ecommerce Copywriter featured in blogs like Huffington Post, Dumb Little Man, Ecommerce Nation, eCommerce Insights, Understanding Ecommerce, Result First, Floship, Small Biz Club, Small Business Bonfire, Successful Startup 101, etc.
He is available for hire
Twitter: @amos_onwukwe