If you're new to websites or blogs, you're definitely going to want to read this.
Blogging can be overwhelming to complete rookies. From buying a domain to designing your site and programming it, many people can get discouraged pretty quickly.
Whether you're starting a blog on marine biology, or
starting a general contractor company
, it's very important to understand how to develop a quality website to build up professionalism around your brand.
And in order to explain this, let's go over some lessons many veteran bloggers learned about websites through old-fashioned trial-and-error.
Know What You Want to Get Out of It
Straight from the start, you should already know exactly what you expect from your website.
Do you want your site to serve only as a backend for your social media profiles? Or do you want your site to get all it's traffic from SEO with a minimal focus on social media?
Do you want your website to be very simple, with a home page, about page, contact us page, and blog page? Or do you want a more complex system of categories and pages that lead to different products/content?
Many people who want to start a website are unclear of what they're really searching for, and this can be a huge problem in the future after a brand is already developed.
But it can be easily fixed in the beginning. Just answer these questions:
What topic(s) are you going to talk about?
What tone do you want to take in your site? (Professional/Casual/Comedic)
How are you going to make money?
Who is your target audience?
Where do you see this site in 5 years?
Write Your Own Content (unless you have a big budget)
Most content writers online can be very expensive. For example, many writers charge as much as $300 per article.
While this can be extremely expensive to some people, many entrepreneurs who have developed businesses and are willing to invest in their content production do accept these offers, and they definitely receive top-notch work.
If you're not available to pay hundreds of dollars per blog post (as most people are), it's recommended you simply write the content yourself.
This can be time-consuming, especially in the beginning, but it can lead to not only saving thousands of dollars in writers, but you'll develop a lot of experience in content writing, which is a very valuable skill.
There is an alternative to this though. Instead of hiring expensive writers or writing content yourself, you can look to freelance sites to outsource your content writing for cheap.
2 great places where you can find really great blog writers are:
Here you'll have many options to get well-done articles for a fraction of the cost of a high-end blog writer. But remember that most of the time you do get what you pay for.
What the Essentials of SEO Really Are
SEO doesn't have to be complicated.
At the end of the day, it involves 3 main things:
Keyword Research
Writing Blog Content
Link Building
In order to understand what kind of content you're to write, you'll need some quality keyword research to be done first. What are people searching for on Google?
A quick and free way to do this is the Alphabet Soup Method. Essentially you're going to look up related keywords to your niche and document the suggested keywords Google automatically gives you.

Here's an example: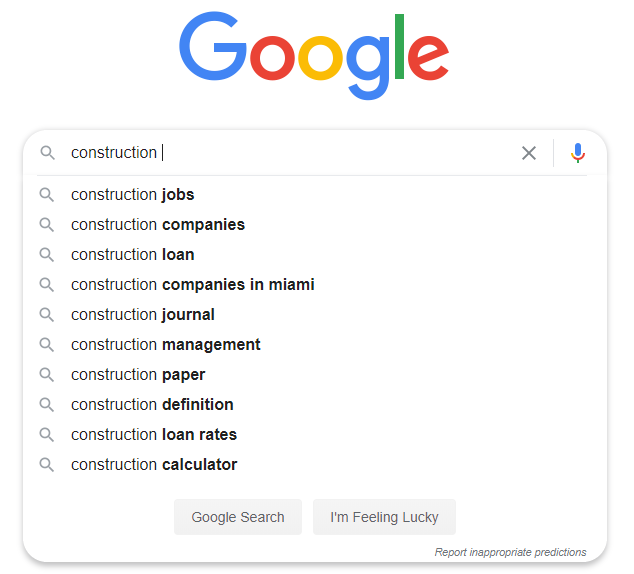 Do you see all the recommended keywords Google gives us? They recommend these to us because other people are searching for these terms. And they assume we will too.
This is an extremely simple and easy to way to start collecting popular search terms to target.
Once you have a list of solid keywords, you can then decide on a list of blog articles to write that can answer the questions or satisfy the topic that people are searching for.
Next, when you have an article published, you can build links to it to improve its credibility and ranking in Google.
You can do this yourself, but it's recommended you hire an expert to complete this task for you. There are a number of link building experts out there that are more than willing to handle your SEO development efforts, just make sure they're qualified and right for the job.
Many link builders can be very spammy and cause more harm than good for your site, so do your research and don't be afraid to shop around a little for someone perfect for your website.
Use WordPress and Hire a Professional to Develop Your Site
There are a number of website building software out there, but WordPress is head-and-shoulders above each one. It offers the most flexibility and is simple for beginners but can be used for more advanced designs by experts at the same time.
However, it's recommended you hire a professional to develop your site from any number of web development agencies or freelancers.
Because chances are they can design and program your site much faster and more professionally than someone newer to websites.
It can get very pricey though, so if you don't have the funds to hire a web agency or freelancer, you're going to have to patch up your site yourself.
Don't worry though, because there are a number of great website themes you can obtain online where all you have to do is plug in information. Perfect for beginners.
Have 1 Clear Call-to-Action Throughout Your Site
Many bloggers and entrepreneurs online make the mistake of confusing visitors to their site.
How do they do this? By having many different offers and pop-ups all over the site. And offering a variety of products or services right out the gate to someone who has no idea who you are.
The first stage from someone who doesn't know you or your brand is for them to sign up to your site. This starts a conversation with them and gives you access to their contact info.

You should have 1 very clear CTA that offers 1 ultra-specific free item that solves an immediate problem of the visitor.

For example, for a construction company offering construction leads they may want to offer a free guide on growing a construction business. And an e-commerce brand offering tennis rackets can offer a video series on how to be a great tennis player.

Conclusion

Building and developing your website and your brand shouldn't be difficult.
It can take a long time of consistent productivity and patience before you start seeing results from your efforts, but when you do, it'll very much worth it.
Hopefully, you got some value from this post, good luck with your website.