One of the best ways to attract new customers and keep them coming is to engage and proactively communicate with your current and potential customers. These days, consumers are bombarded with various marketing campaigns on different platforms— from radio and television to social media and in-app ads. This is why a company needs a creative approach to stand out.
If you want to boost your company's customer engagement, there are countless ideas you can try and some of these are the following:
Make Email Campaigns With Relevant Content
Your business's email list is a valuable tool for customer engagement. When somebody gives you their email address, this is equivalent to actual interaction. Thus, you must use this opportunity wisely by providing them relevant content.
However, since not all types of content are relevant to your list, you may consider segmenting your email lists. Cloud phone customers can also be segmented according to business size, industry, location, and so on. Once you send targeted emails, engagement rates may increase.
In sending content, you can take advantage of marketing software, such as the Drop Cowboy Ringless Voicemail and Text. These tools are easy-to-use and cost-effective, especially if you're planning to use text messaging as a marketing platform.
Connect With Your Customers On Social Media
Social media networks, including Facebook and Instagram, are a must-have customer engagement platform for every business. Using social media can help you attract new customers and keep the current ones.
You can make your business look more credible by having virtual phone systems. This way, you'll have a competitive edge in the industry. Nowadays, businesses are using predictive dialers for efficient engagement with customers. There are companies that offer outbound calling solutions, such as Call Cowboy—gone are the days of tedious manual dialing.
It isn't a secret that social media is the go-to option when it comes to customer engagement. The more comments, shares, or likes you get, the greater feedback you'll get from your customers. If your business isn't on social media, you're missing out on countless opportunities to connect with your potential and current customers.
However, using social media as a marketing platform won't be as effective if you don't post anything. Your posts must be interesting enough to like, share, and tag people in. Note that every tag makes its way to another account's news feed. The more interactions you get with your posts, the more chances for your business to reach its target audience.
Doing giveaways by compelling your followers to tag their friends on your social media post is also a great idea. This way, more individuals will reach your page, hence increasing customer engagement.
It's also a good idea to repost your customers' content such as videos and photos of your services and products. For instance, if your local customer posts photos of themselves with your product, ask for their permission to share such posts on your own account. These will serve as feedback and testimonies that can help you connect with your target audience.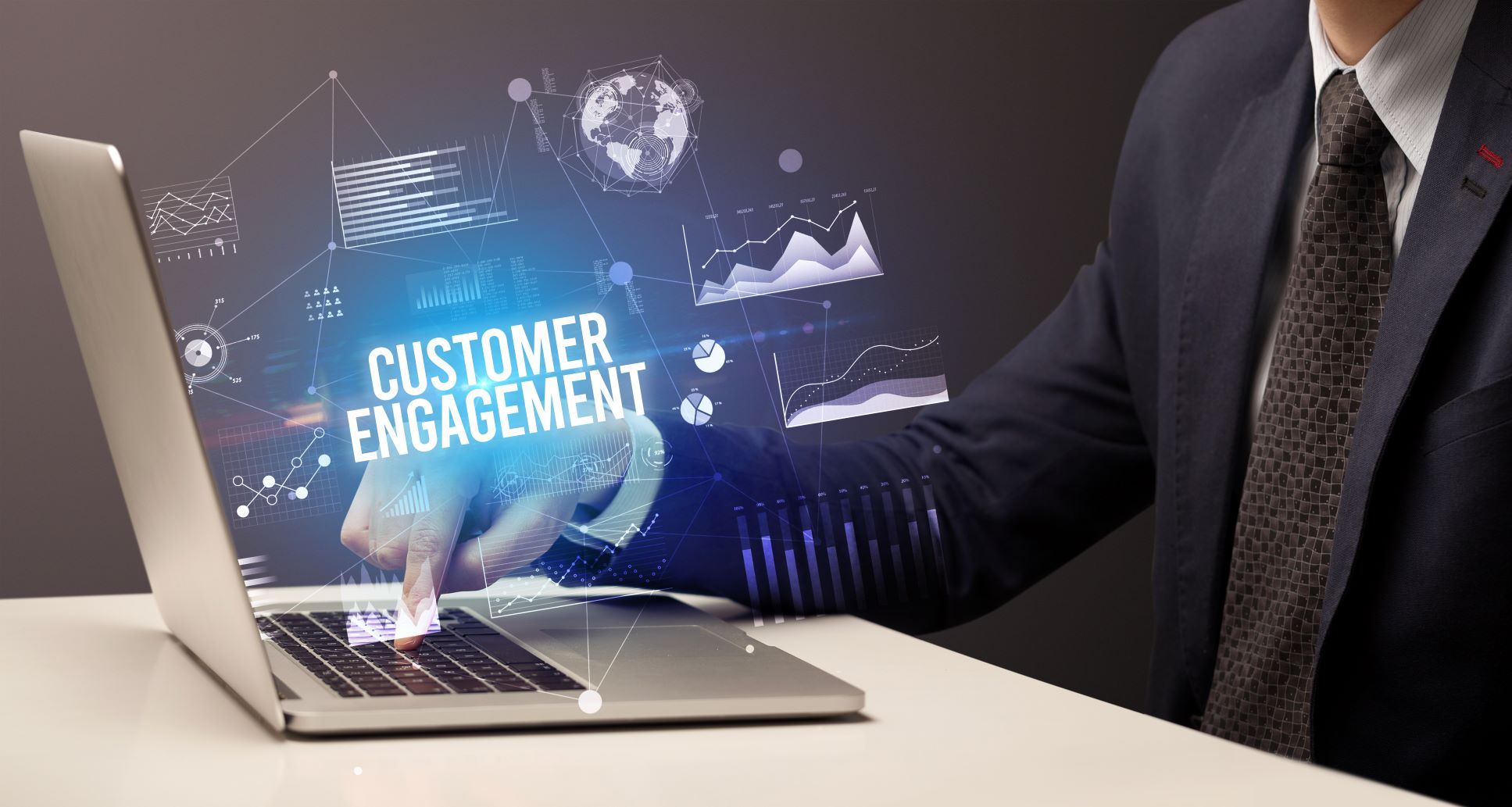 Consider Investing In Content Marketing
Content marketing may come in various forms, such as videos, eBooks, webinars, and blog posts. This content, aside from boosting engagement, also creates more opportunities for your website to rank in search engines.
Your content must be valuable to your customers and contain information that they won't get from other sites. Simply put, you have to publish original content that caters to your niche and your customers' needs.
If you want to focus on a certain form of content marketing, it would be best to use videos. Although written content is useful, videos outperform when it comes to incorporating visuals in your content marketing. The reason behind this is that humans process videos faster than texts. Videos are also great for increasing web traffic and converting leads into sales.
Follow Up On Customer Feedback
Asking for feedback is a great way of reaching out to your customers. However, ignoring their feedback by either leaving it on 'read' or never acting on it is a big mistake you should never make.
When customers give you feedback, regardless if it's positive or negative, take some time to respond. Then, let your customers know their comments are highly appreciated by thanking them sincerely.
Negative feedback must not be taken for granted by your team to avoid losing customers. If the complaints have merit, take some necessary steps to correct and improve your system. Once you've resolved your problem, you can inform the customers and assure them that they can always rely on your company even when problems arise.
Personalize Your Special Offers
Showing your customers you care about them is one of the best ways to keep them coming back. You can create special deals for specific loyal customers and add a personal touch to these offers. You may also offer discounts or bonuses to encourage and maintain loyalty. Aside from being able to surprise your customers with these special treats, you'll also improve your reputation in the long run.

Develop And Build Your Online Community
Building a community enables you to conduct a range of interactive research in the form of discussion or dialogue. Moreover, experienced users can start talking to newcomers. Since they are firmly convinced of the product's benefits, their testimonies will truly inspire trust and earn you more customers.
Create A Brand Voice
The voice of your brand is essential to your image and business personality. You would want to keep the same voice in every post you share, interactions you have, and blogs you write. Create a brand voice with a distinct personality that resonates with your audience's values and needs. This enables you to make an unforgettable connection with your customers. This connection likewise helps in keeping and gaining more customers.
Host Contests And Events
Whether it's a promotional event, a webinar, or a contest, hosting contests and events both offline and online is a good way to engage with your customers and make them feel like they're part of your brand's exclusive community.
Even if you don't host events often, don't miss out on local networking opportunities. To do this, set up a booth at any trade show event related to your business, so you can mingle and meet your potential customers in person. Then, give out some exceptional merchandise to attract crowds to your booth.
For most people, one of the things that grab their attention at events is the vendor's charisma. Use it to your advantage and engage them until they become your customers. You can also send them emails after the event to keep them posted about your business. This will make you even more memorable among your potential customers.
Everyone is fond of free things. You may conduct a free contest for all of your potential and current customers. Through this, there's a higher possibility they'll reach out to you even after the contest.
For instance, you can have a tagging contest where customers can tag as many contacts as they can on your social media post. As a result, you can provide them free membership for a certain period or discounts on plan upgrades.
Give Importance To Customer Reviews
You might have noticed that companies and top brands encourage their customers to provide some testimonials. Such testimonials provide customers a place to express their experiences and feelings. It's one of the core aspects of a good customer engagement strategy. If you offer high-quality services, then enabling your customers to speak up allows your brand reputation to spread naturally.
As a matter of fact, top businesses dedicate staff to ensure that customers are engaged, especially the most loyal ones. They answer every service- and product-related query in a professional manner, leaving a positive image of their business in the minds of their customers. Through that, returning customers will have a go-to person to discuss certain products, and maintain a strong relationship with the company in general.
Use Live Video Sessions As A Tool
Another way to interact with customers and humanize your business is by doing live video sessions. Video marketing also enables companies to make their brand more relatable and start casual conversations among their viewers. So, if you haven't tried live video sessions before, it's high time for you to try it and see the results for yourself.
You can use live video sessions in providing tutorials on how to use your products and how your customers can benefit more from your services. Live video sessions may also come in handy when launching new products and services and keeping your customers updated.
Give Out Rewards
If you want to get real loyalty and commitment from your customers, you might have to step up your customer engagement game. One of the best ways to do it is by putting a rewards program in place for your customers.
A reward program isn't only for your partners and sales teams. Having a reward program in place will keep the engagement consistent. What kind of rewards can you provide? You can try the following just in case you haven't thought of one yet:
Create badges that your customers may embed into their site. You can create badges for loyal customers, high-paying customers, and many more.

Share the success stories of your customers and how the company helped by reaching more people, solving problems, and making tasks more efficient.
Offer prizes and have an awards event for certain milestones or achievements.
Recognize the achievements of your customers publicly on your communication channels. You must ask for consent before sharing it on your social media accounts.
Provide extra VIP sessions and training with a dedicated specialist or consultant.
Sponsor group events or trips where your customers and teams can bond over a meal, activities, or cocktails.
Provide certificates for completing the training.
Aside from this enumeration, there are other ideas you may consider. Ensure that your reward program matches your products and your customers' goals.
Think Big
Small businesses not only succeed by thinking big, but also by using the available tools and resources in strengthening their company. At first, especially for startups, data analysis is made possible through smaller scales, such as in spreadsheets, instead of custom-built systems. However, this analysis is more accurate than having hunches or preconceived ideas about your target market. If acting on that data means making calls or sending individual emails, know that you're actually thinking big and doing things right.
Businesses that react promptly to market trends and act on insights always succeed. For big businesses, it can be a challenge to propose ideas and present data in a way that resonates with the higher-ups.
Institutional habits, or norms among organizations and corporate entities, can be challenging to overcome for well-established businesses. Most small entrepreneurs or solopreneurs don't face this challenge. Knowing what your customers want often starts with experimentation—take advantage of this flexibility if you have a small business.
Take Advantage Of Crowdsourcing Methods
While this is not ideal for all businesses, crowdsourcing can be an excellent way to get people engaged and invested from the very beginning. Not only will they be fully invested in your business, but they'll also give you useful suggestions for some of your most important decisions. This takes a great amount of engagement and commitment. The projects they invest in are the same projects they'll remain loyal to.

Work With Influencers
There are numerous influencers in various industries nowadays who possess authority in their own niche. So, if you want to widen your reach, boost your exposure, and improve customer engagement, working with influencers may come in handy. For example, you may get influencers to host live sessions on social media where they can communicate with people and answer questions.
Conclusion
Customer engagement is all about encouraging customers to interact or share the experiences you make for them as a business. However, as a business owner, you should consider customer engagement not only as a strategy for revenue extraction, but also as value creation. With this in mind, provide your customers with something meaningful and valuable, such as great content, improved customer support, and exceptional customer experience to boost customer engagement in no time.