An innovative and appealing website is a must for any business owner, entrepreneur, or artist in 2021. It is the most efficient way to engage with a large user-base and reach potential customers worldwide.

Are you worried about not having coding experience to develop your own website? Fortunately, you don't need any web-dev skills to create a stunning website. Website builder softwares simplify the designing and hosting process so that anyone can assemble their online store or e-portfolio within minutes.

These are our top 10 picks for website builders to use in 2021 to create a website in any domain.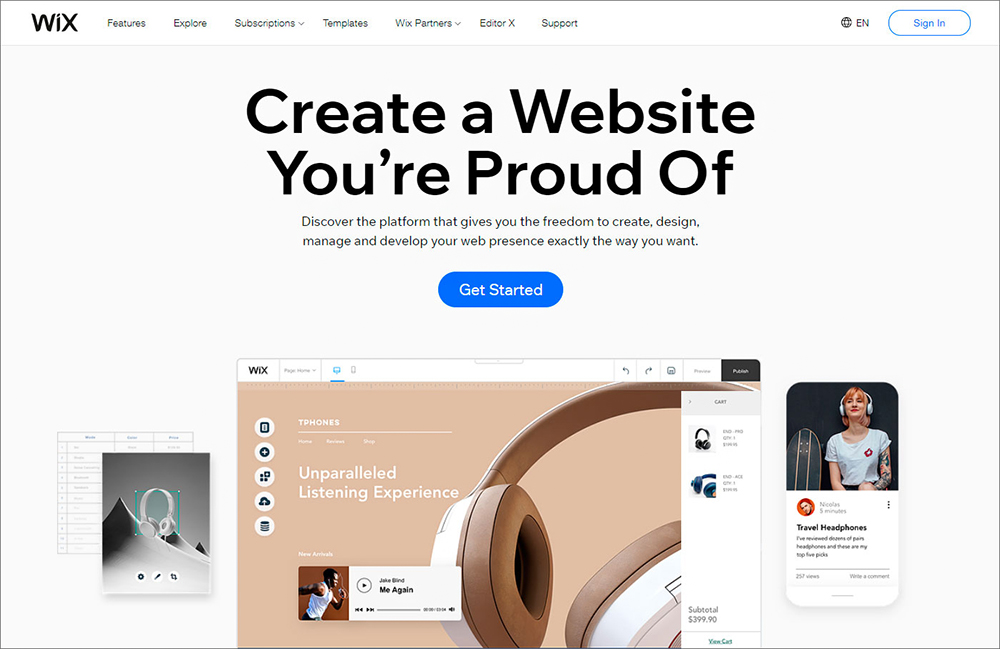 Wix is one the most flexible free website builders to use in 2021. Its template portfolio, editor specs, and customization features are right up at the top. Pick from more than 500 templates designed according to different industries and types of business.
Features:

Variety in website structure - Whether you want to set up a blog, an online store, on a digital portfolio, Wix has you covered with its form and feature options.

WixADI (Artificial Design Intelligence) - Don't have the time to design a website from scratch? You can rely on WixADI to give you smart recommendations on layout, element placement, themes, text, etc., based on your inputs.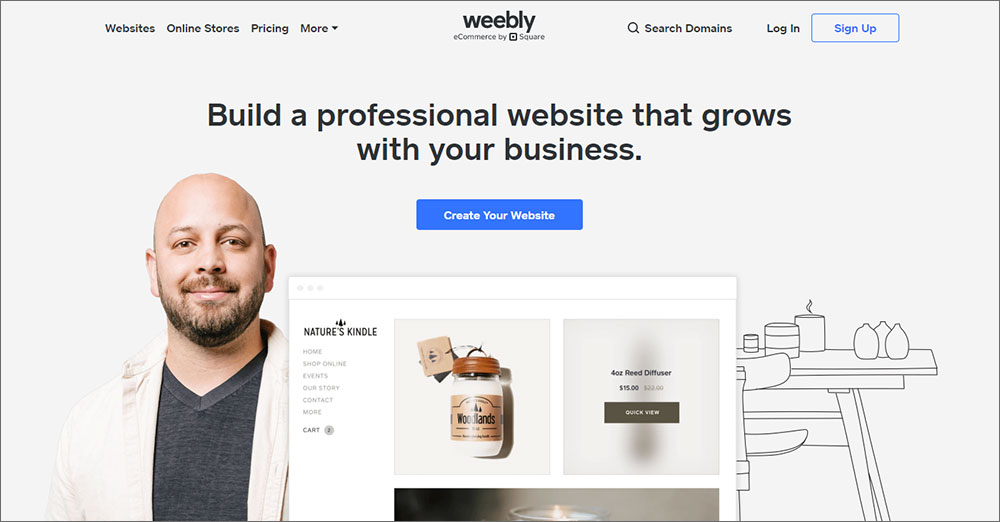 Looking for a free website builder that meets all your basic web development needs? Weebly is one of the few website builder softwares on the market whose free version is loaded with functionalities.

Features:

Ecommerce specialty - Setting up an online shop with Weebly is a quick and simple process. The software gives you intelligent suggestions for search engine optimization (SEO) and digital marketing.

Square product suite - Level up your online payment game for your Weebly store with the Square suite. The add-on allows you to track your online sales and extends payment options for your customers.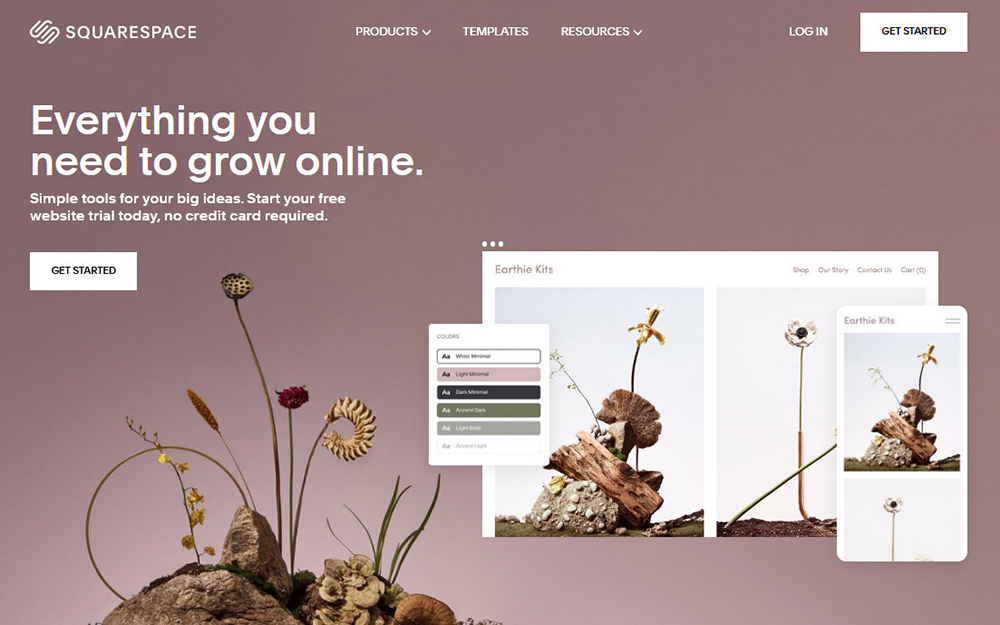 If you are looking for unique and aesthetic website templates, Squarespace is your go-to. This website builder software places a significant emphasis on the design and interface elements of the website.
Features:

Easy customization - Pick any template and hit the ground running. You can customize every aspect like color, grain, shapes, text boxes, buttons, etc., to suit your needs.

All-round design help - Squarespace is also linked with the Unfold app that lets you edit your social media content. The app has hundreds of filters, overlays, and editing options to tune up your pictures and posters to look their best.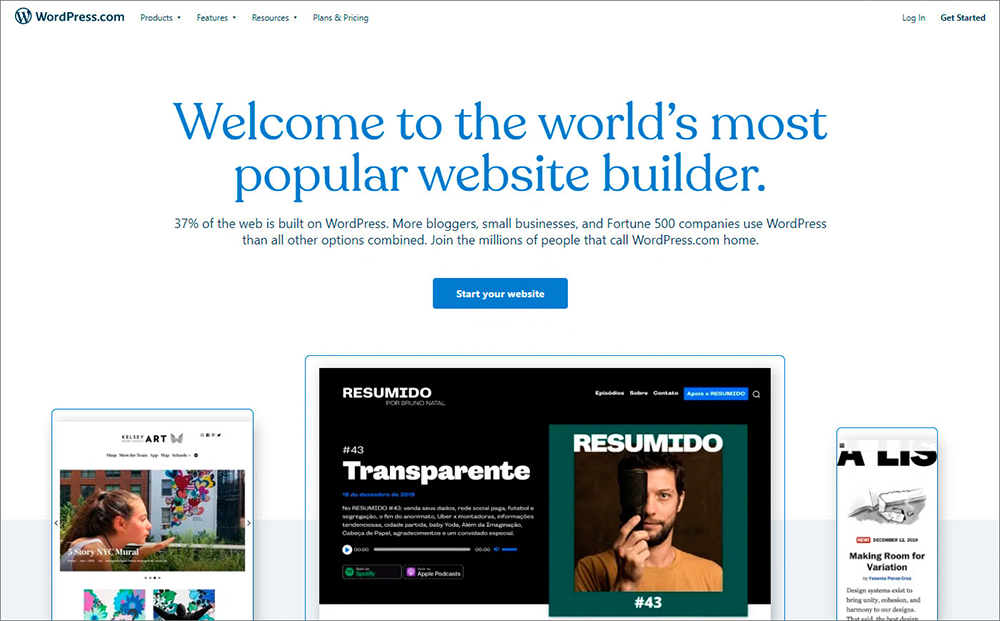 With around 40% of the market share, WordPress is by far the most commonly preferred website builder on the internet. It is an intuitive software and adaptable to beginners and pros alike. No matter what your web development and coding skills are, WordPress gives you a fulfilling experience.

Features:

Add-ons - Choose from thousands of additional functionalities to improve your website. Add-ons can help you with specific tasks like collecting emails, creating chat boxes, automatic backup, and more.

Marketing tools - The web-dev suite has robust tools for reaching your customers through SEO, Google analytics, and email trackers.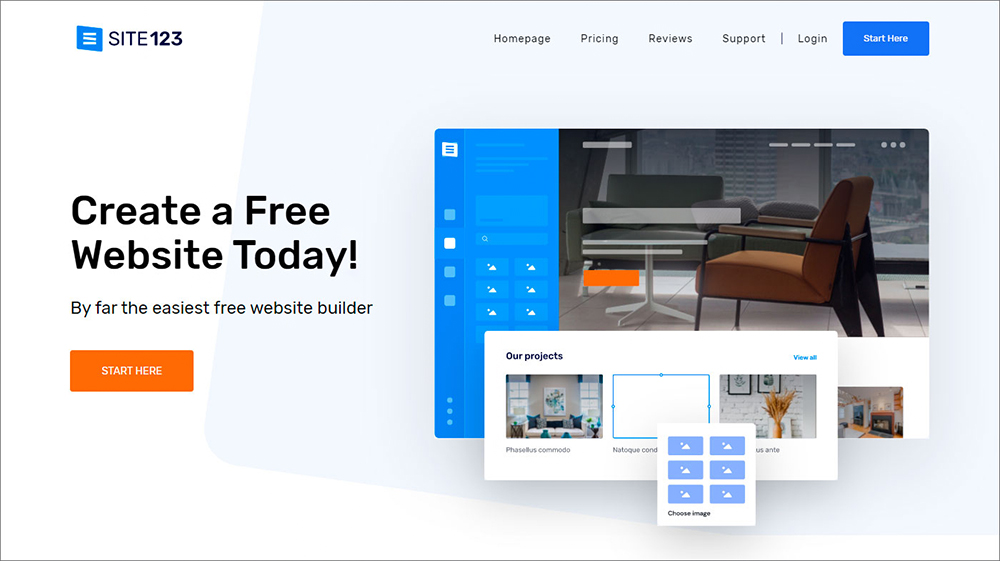 Do you need a design platform to set up your online store? SITE123 is one of the best website builders for creating ecommerce websites. The editing process is quick and responsive - and you can make your own website from scratch in less than an hour.
Features:
Link to your social media - If you have multiple sales channels, like on Instagram and Facebook, you can easily link them with your website to track your total selling trends.

Unlimited websites - Once you create a SITE123 account, you can create an unlimited number of web pages and websites with a single user account.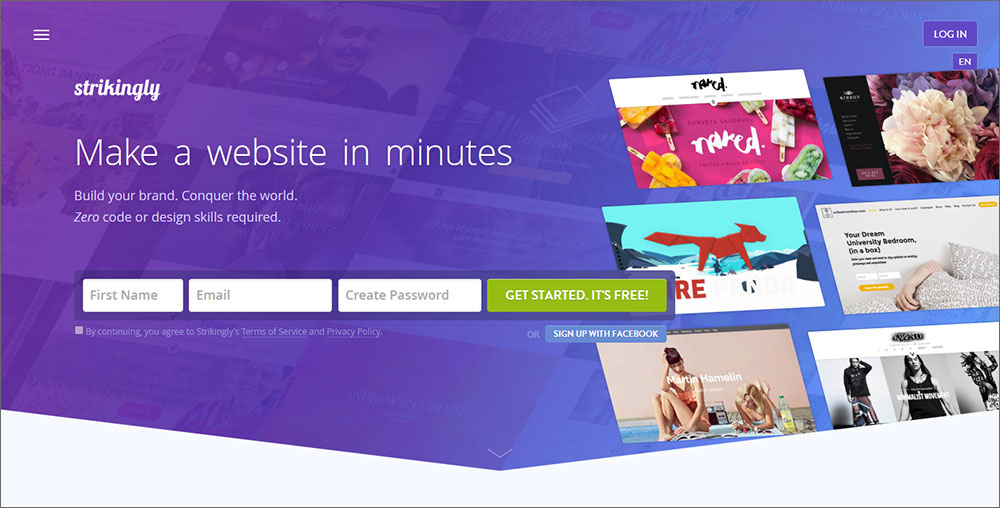 Strikingly is an economical and efficient solution for creating great websites. With a Pro account, you get unlimited bandwidth, free custom domain names, improved mobile functionality, and checkout customization.

Features:

Ecommerce websites - This builder is great for small businesses and artists starting their online selling journey. Each website can support up to 300 products and integrates seamless checkout.

You can also buy extra 'Pro' websites beyond your existing plan without having to upgrade to a costlier plan.

Use the Strikingly app store to add innovative user interface options to your website.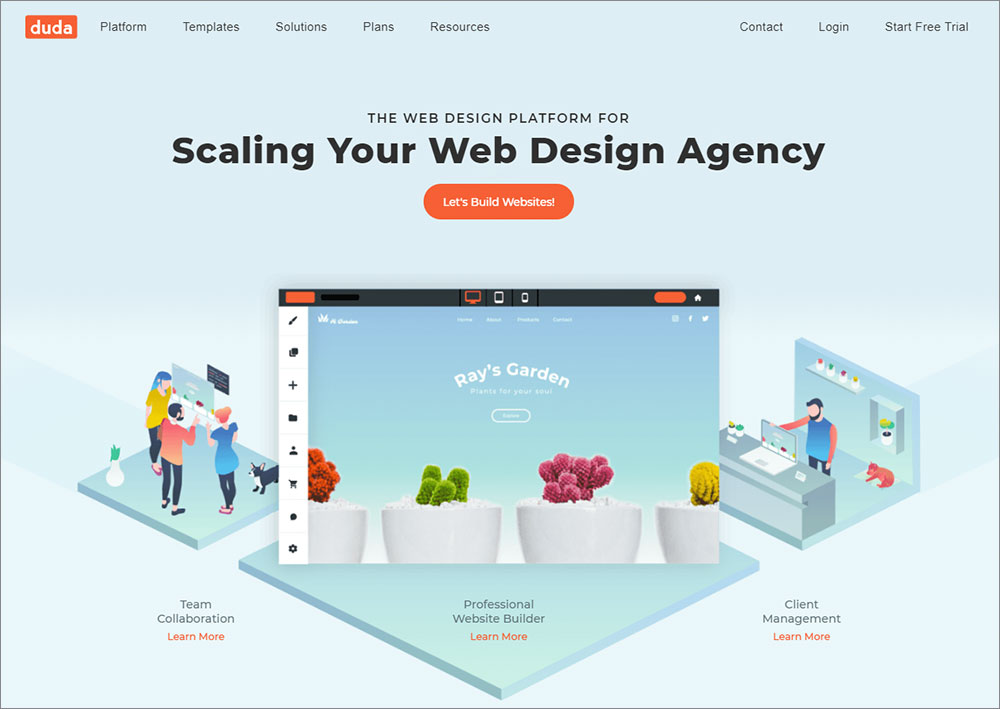 Web developers with intermediate to advanced coding chops will particularly enjoy Duda's website builder. The software lets you directly customize your building blocks like APIs, webhooks, widgets, etc.

Features:

Community learning - With Duda, you can access a rich repository of industry experts' first-hand experiences with customer engagement and online selling.

Custom widgets - Create and personalize your widgets to make your website stand out in a crowd of competitors.

You can integrate large volumes of data like product details and customer activity analytics to Duda's platform to improve your website's customer engagement.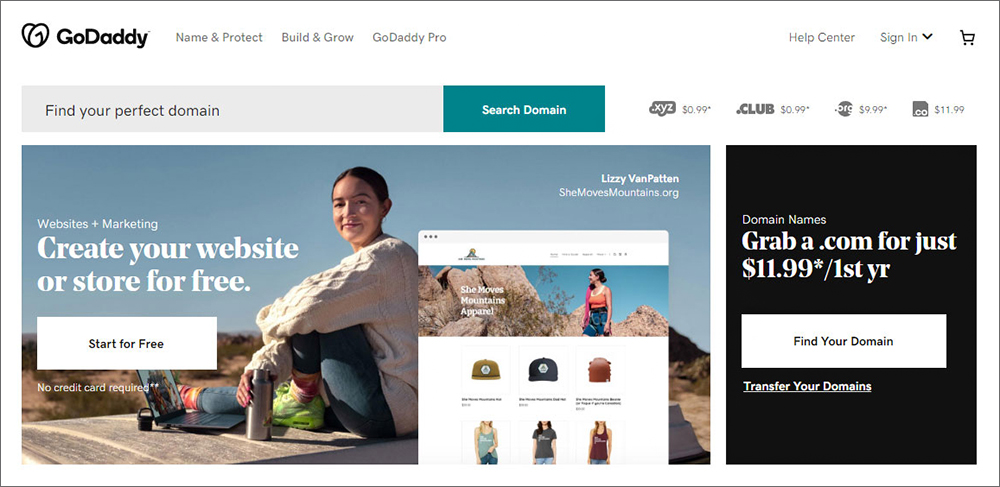 GoDaddy is an all-in-one platform for designers, developers, and sellers to create unique websites. It is highly affordable, especially for freelancers and small business owners.
Features:
GoDaddy Reseller Program - Unsure about opening your own online business? Get a feel for ecommerce with GoDaddy's Reseller Program for selling GoDaddy products. You can learn the ropes of operating an online store, attracting users, and making conversions here.

Marketing tools - You can access a host of features to improve your user-engagement strategies with the GoDaddy suite. Create a customized professional email, get practical SEO recommendations, and seek help from experienced 'GoDaddy Guides.'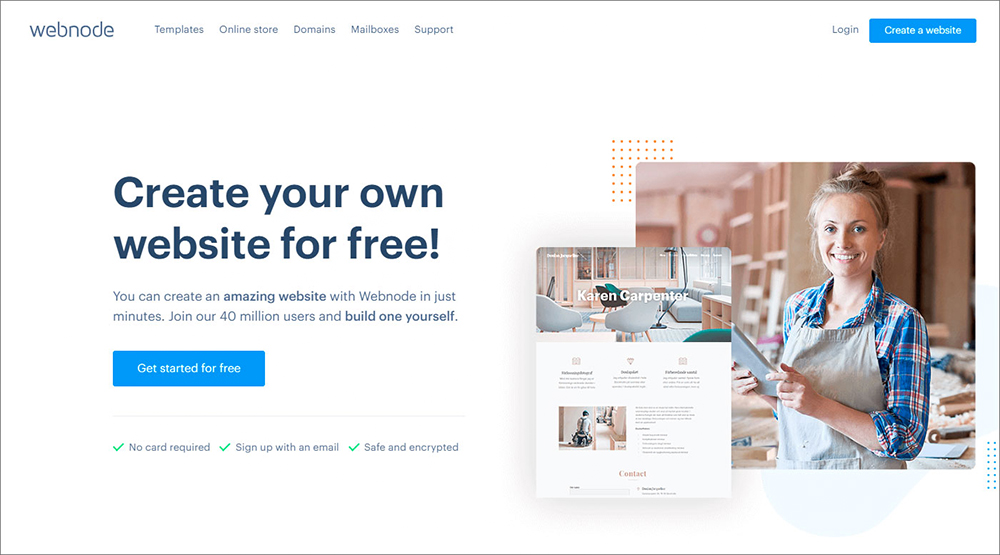 We love WebNode for its fun aetheric and fresh templates. If you want to create a website that appeals to young users immediately, WebNode is the website builder for you. It has a massive gallery of modern, clean-looking templates that turn the cliched online-shop-look on its head.

Features:

Sync your existing website on WebNode - Do you love the options that WebNode offers but don't want to create a new website? You can easily add any function or store feature to your current website.

Drag and drop builder - The designing interface is user-friendly, intuitive, and straightforward. You don't need any coding and designing experience to create a fabulous-looking website.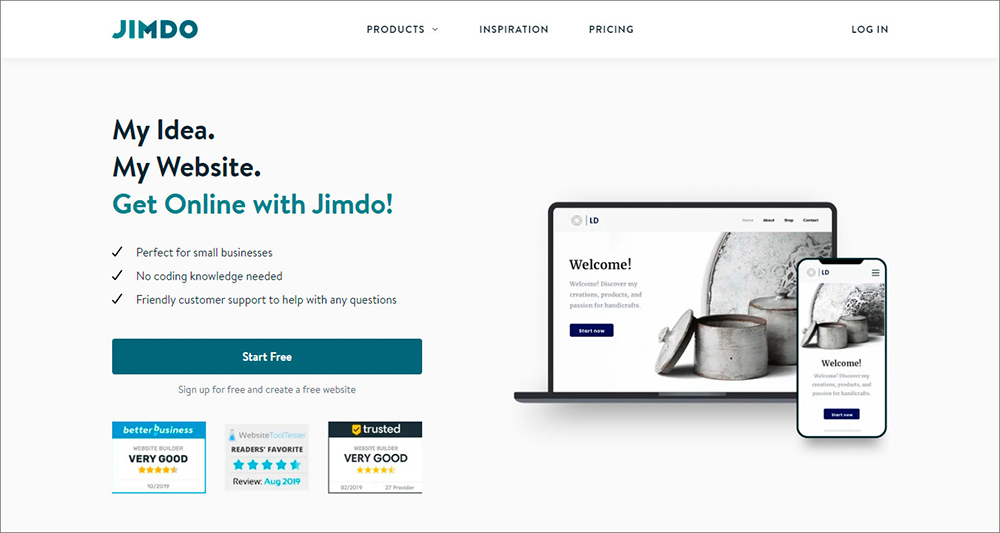 Use Jimdo to develop a highly responsive and user-friendly ecommerce website. The platform is perfect for both small businesses and enterprises to foray into online selling.
Features:

No transaction fees - Many website builders change a cut from your profits as platform fees. Jimdo does not touch your earnings, and you don't have to worry about hidden costs.

Jimdo websites support all types of payment options like credit/debit cards, PayPal, Apple/Google Pay, SEPA mandates, etc.
Legal pages - The Jimdo Legal Text Generator is a brilliant feature to create legal pages for Terms and conditions, Privacy policy, Return policy, Liability information, etc. Just answer a few simple questions, and your legal pages will be ready in no time.

What Are The Best Website Builders To Use In 2021?
We recommend that small businesses opt for Wix or Strikingly for their online stores. Choose Squarespace or WebNode for creative enterprises like blogs, photography or art portfolios, beauty-related companies, etc. Firms looking for large-scale ecommerce functionality should go for WordPress or SITE123.